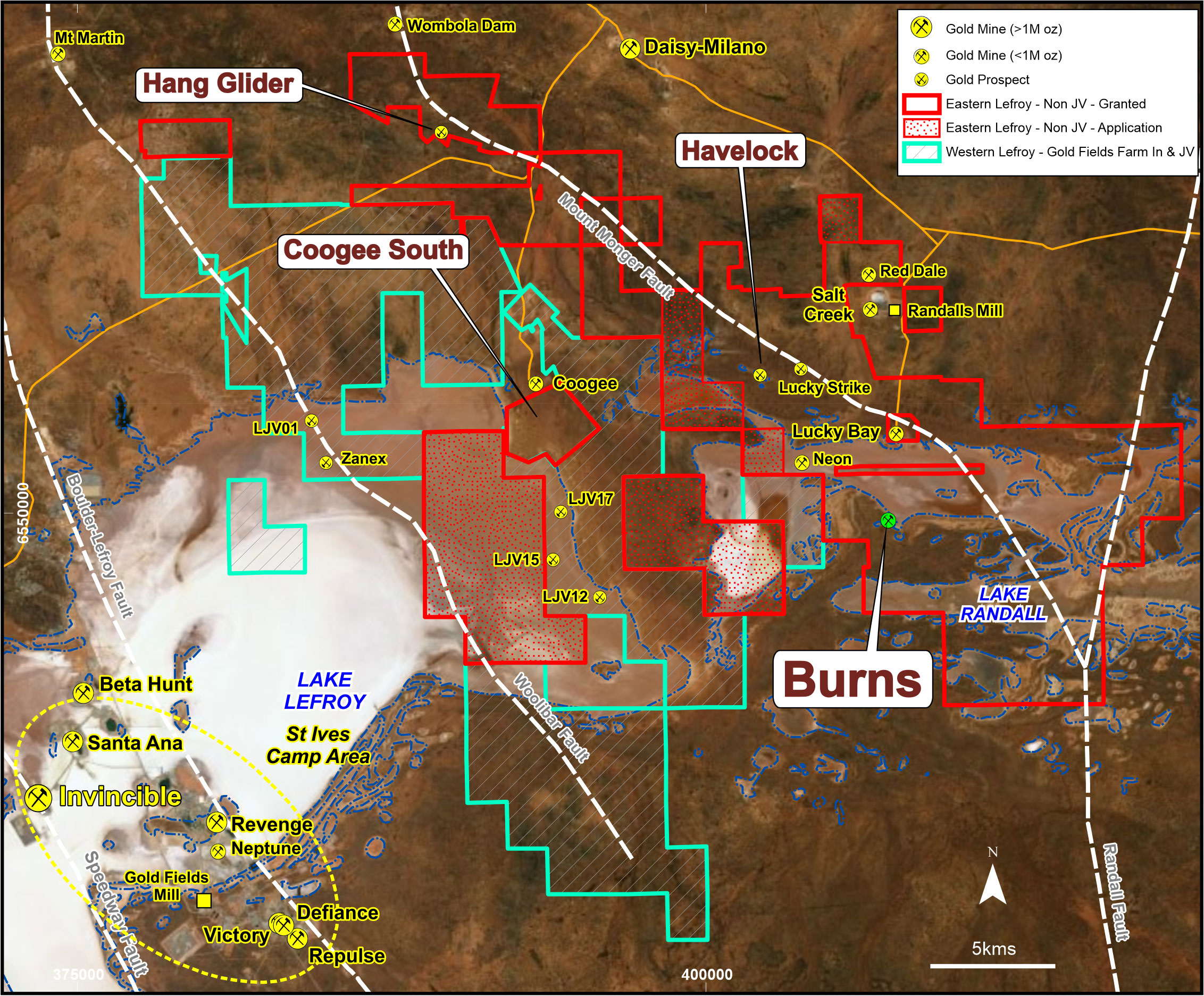 The Lefroy Gold Project with the location of Burns, Coogee South, Lucky Strike, and Hang Glider Hill.
The Eastern Lefroy Gold Project is LEX's flagship project where the Company has secured a commanding 226km2 land package that comes within 50km of Kalgoorlie. The Project is located in the well-endowed Kalgoorlie Terrane and bracketed by the regional gold mineralised Boulder Lefroy and Mount Monger Faults. Nearby operating gold mines nearby include Goldfields St Ives gold camp, Daisy Milano, and importantly the Salt Creek gold plant operated by Silver Lake Resources (ASX: SLR). The presence of multiple operating mills nearby could allow for any smaller discoveries to be quickly and cheaply commercialised.


Importantly the LEX land holding is a 100% owned and contiguous tenement package, free of encumbrances such as 3rd party royalties and interests, which has allowed for seamless exploration.


LEX has had exploration success at the project leading to the identification of a number of prospects at Lucky Strike, Capstan, Red Dale and Hang Glider Hill. Lucky Strike was identified through systematic air core drilling that commenced in December 2016 that defined an anomalous gold trend over a 3000m strike length sub parallel with the Mt Monger Fault. More recent Reverse Circulation (RC) and Diamond drilling has identified high grade gold mineralisation in a Banded Iron Formation unit over a 300m strike length and continues to be a focus of drilling activity. The Red Dale prospect is located immediately north of Silver Lake Resources Limited (ASX:SLR) Randall's Processing Plant , and RC drilling in late 2017 identified gold mineralisation hosted within a basal gravel unit in a palaeochannel. The Company's focus at Red Dale is to explore for the source of the gold in the channels which is interpreted to be derived from a proximal source in the underlying bedrock.