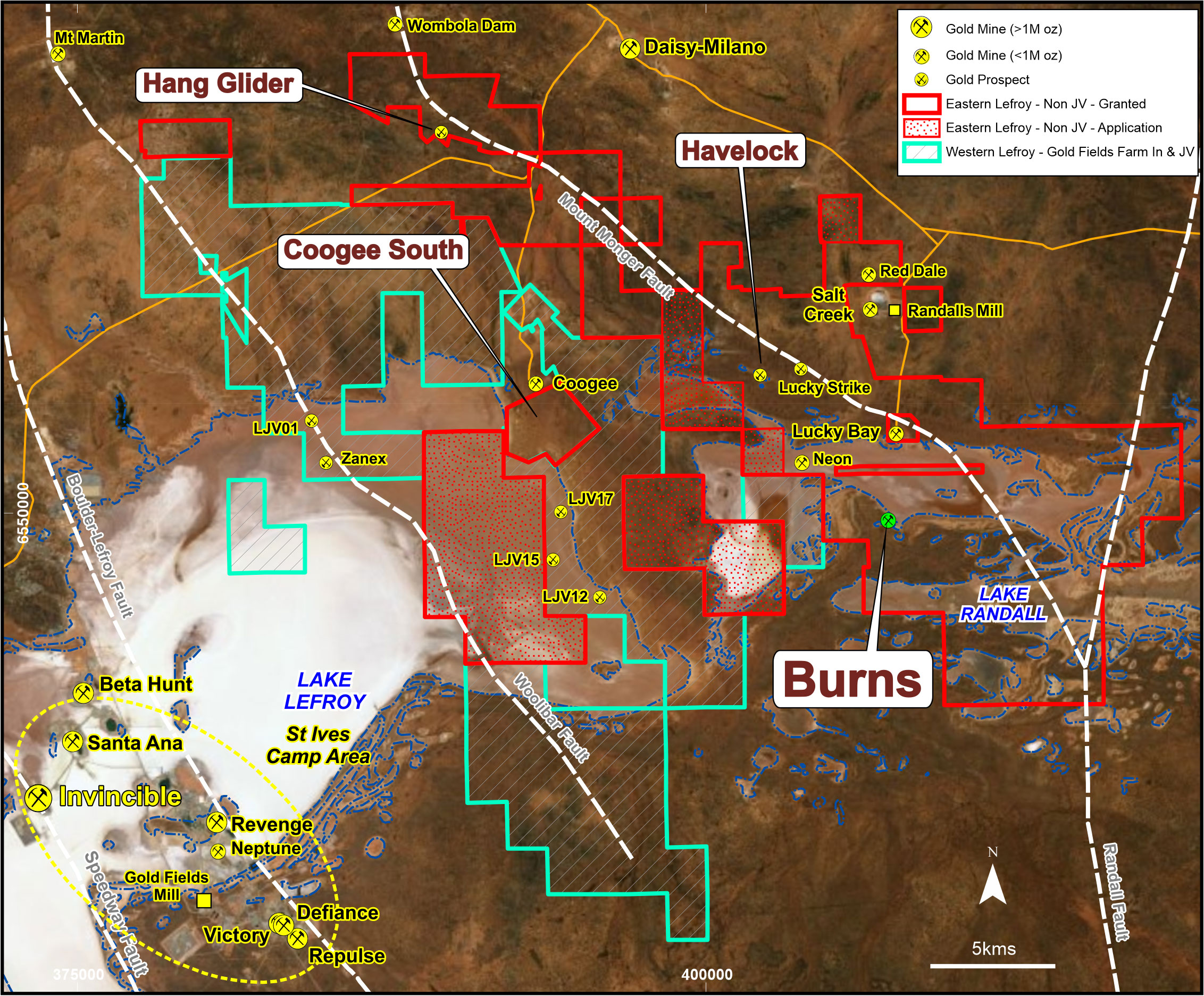 Eastern Lefroy and Western Lefroy Project Overview
The Lefroy Gold Project (West) is located 60km south of Kalgoorlie, covers 372km2 and lies adjacent to Gold Fields Ltd multi-million ounce St Ives Gold camp. Much of the project area is covered by the Lefroy lake systems which has historically presented challenges for the drilling of targets identified within salt lake systems. These challenges have been significantly reduced through the development, availability and affordability of drill rigs and access vehicles that can operate successfully all year round in salt lake environments.
LEX has undertaken significant early stage exploration at the LGP (West) project which produced significant exploration results and defined a new mineralised trend.
Recognising the vast potential of this new mineralised trend and the capital required to comprehensively explore the ground, LEX entered into a farm-in agreement with major gold producer and LEX's neighbour, Gold Fields, to accelerate exploration at the project. Gold Fields can earn up to a 70% interest in the project by spending A$25m on exploration over a period of six years. Key terms of the farm-in agreement are as follows:
Stage 1 farm-in requirements:

Gold Fields to sole fund $10 million of expenditure within 3 years in order to earn a 51% joint venture interest
This includes a minimum expenditure commitment of $4 million within 2 years before Gold Fields can elect to withdraw from the Agreement

Stage 2 farm-in requirements:

If Gold Fields satisfies the Stage 1 farm-in requirements, it has the option to elect to sole fund a further $15 million of expenditure within a total of 6 years from commencement of the Agreement to earn an additional 19% interest (taking its total interest in the joint venture to 70%)

Gold Fields will manage all exploration activities during the farm-in period
Importantly, under the agreement LEX may be provided with a loan carry by Gold Fields to fund its share of development capital in certain circumstances, and once in operation, LEX also holds tag along rights to process its share of gold ore through the St Ives mill should Gold Fields elect to process its share of ore through St Ives.
LEX is very pleased to have partnered with Gold Fields who bring extensive regional geological knowledge to the project having developed St Ives into a world class gold district.
Gold Fields have actively commenced exploration at the project conducting geophysical surveys comprising airborne magnetics and ground gravity.