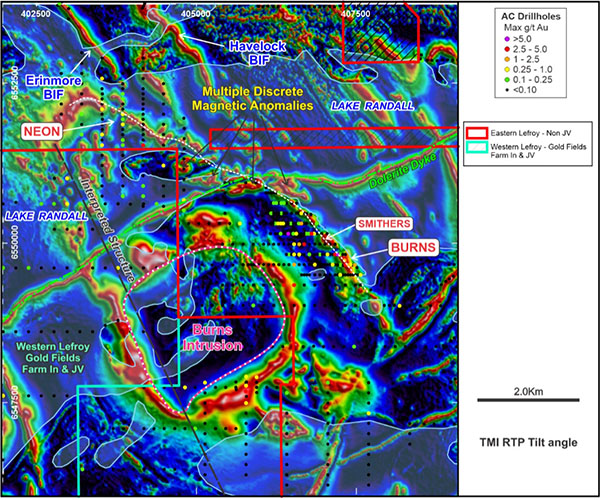 The Burns Prospect with aeromagnetic overlay
In January, 2021, LEX commenced its first round of RC and Diamond drilling at the Burns copper-gold prospect. The Burns prospect lies on the eastern margin of a large felsic intrusion, which is represented by a distinct aeromagnetic and gravity geophysical signature. Drilling has identified both broad and high-grade gold-copper-silver-molybdenum mineralisation, hosted within a newly discovered hematite-pyrite-chalcopyrite-magnetite altered porphyry with best intercepts including 38m at 7.63 g/t Au and 0.56% Cu from 134m in hole LEFR260. This porphyry, termed the Eastern Porphyry, is open to the north and south along similar geophysical features.
The copper and gold mineralisation hosted by both the diorite porphyry, basalt, and massive magnetite is considered by the Company to be a new style of mineralisation in the area, with similarities to an intrusion related system.