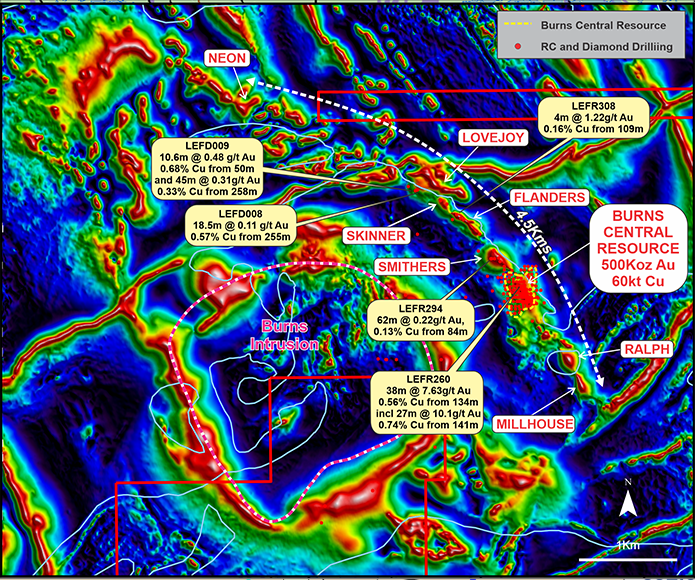 TMI RTP aeromagnetic imagery underlain by satellite imagery highlighting Burns Central resource and neighbouring prospects, each with distinct annular magnetic signatures, along the 4.5km magnetic linear 'Burns Corridor' trend (drill holes are hidden to highlight magnetics).
LEFROY EXPLORATION BURNS PROJECT
Burns is an alkalic, intrusion-related gold and copper mineral system, hosted by Archaean age diorite-porphyries and basalt with a distinct aeromagnetic signature. The Company considers this mineralisation as entirely new to the Eastern Goldfields province with upside potential at a gold-copper 'camp' or district scale, analogous to large porphyry deposits of the NSW Cadia district and British Colombia.
A maiden 22-hole Reverse Circulation (RC) drill program completed in early 2021 led to the discovery of gold and copper at Burns (refer ASX announcement 23 February 2021).
Since the initial discovery, Lefroy has continued to expand Burns, focusing on a maiden resource estimate (MRE) at the discovery area, 'Burns Central', which was delivered in May 2023.
The Burns Central resource contains an initial 43 million tonnes grading at 0.36g/t gold and 0.14% copper with additional silver at 0.35g/t (classified as 75% Indicated and 25% Inferred to JORC Code 2012 standards). The total metal content of the MRE comprises nearly 500,000 ounces of gold, more than 58,000 tonnes of copper and close to 490,000 ounces of silver with additional cobalt and molybdenum credits.
Burns Central is the most advanced of seven potentially interconnected porphyry-related prospects, which form a 4.5km-long magnetic trend known as the 'Burns Corridor'. First-pass exploration at several prospects within the corridor has already returned encouraging results, including gold and copper mineralisation at the Smithers, Flanders, and Lovejoy prospects, which indicates that the system has considerable scale.
Burns Project 3D Animation - View Here