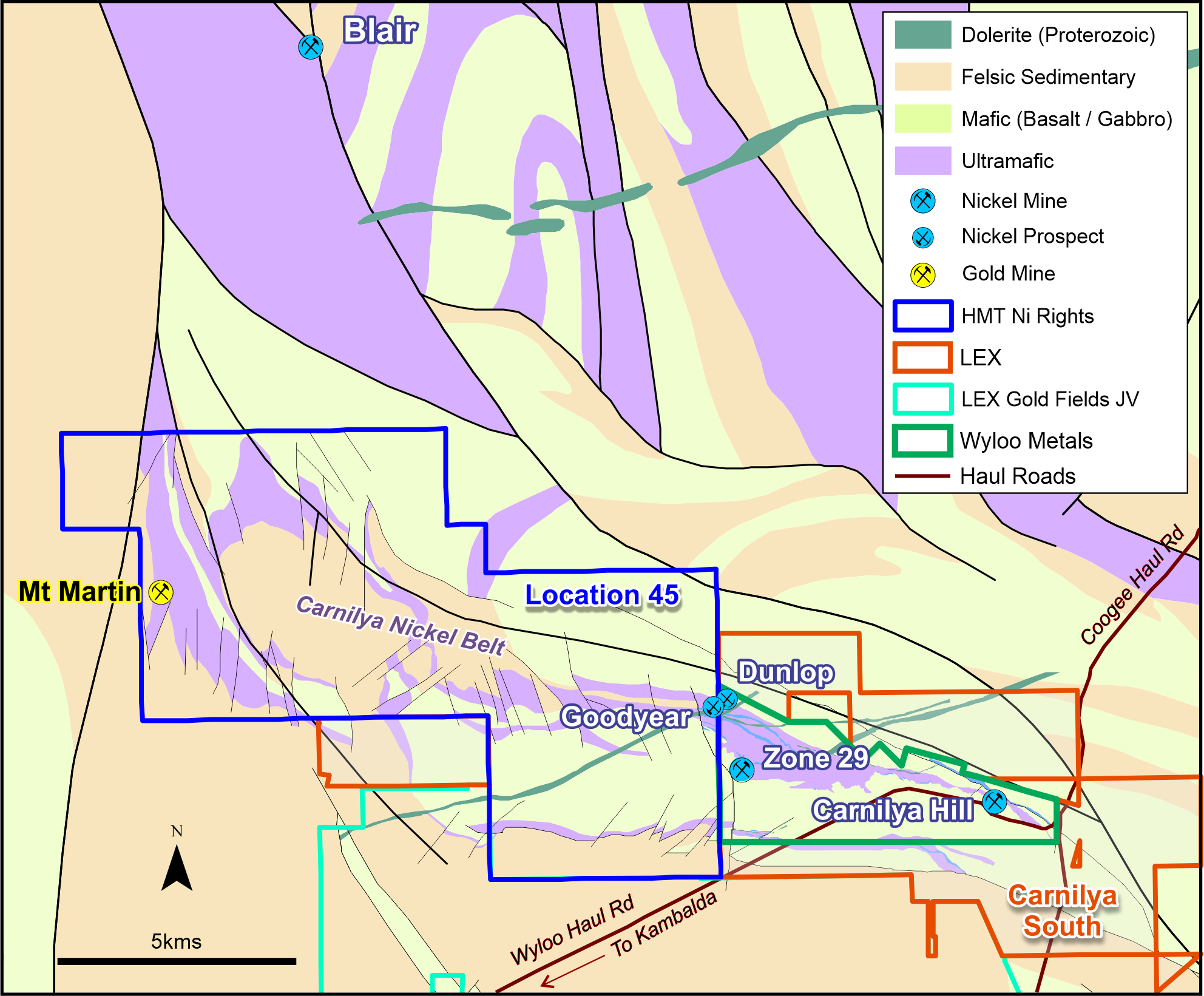 Interpreted bedrock geology map of Location 45 the Goodyear Nickel Deposit where LEX controls 30km strike of the highly prospective Carnilya Nickel Belt
Goodyear is held by the Company's wholly owned nickel focused subsidiary Hampton Metals Ltd (Hampton or HMT). It lies within the western boundary of freehold property, Location 45 and is surrounded by the infrastructure of multiple other operating gold and nickel mines within the prolific Kalgoorlie-Kambalda mining district.
The Company acquired Goodyear in May 2023 through a Mineral Rights Agreement for Location 45 between title holder Franco Nevada Pty Ltd (Franco) and Lefroy's wholly owned subsidiaries. In this agreement HMT acquired all nickel, REE and lithium rights (including Goodyear) from Franco for an initial 21-year term in exchange for a minimum annual exploration expenditure of $100,000 and 4% royalty upon production.
Goodyear is a Kambalda-type komatiitic nickel mineral system defined by its geologic setting of mafic volcanics overlain by high-MgO ultramafic (komatiites) and interflow sedimentary rocks. This package has been folded into a tight syncline flanking a larger, more open anticline. These structures, the Carnilya Syncline and Anticline are known to host several nickel sulphide mines and deposits including Carnilya Hill and Zone 29 to the east and Blair to the north.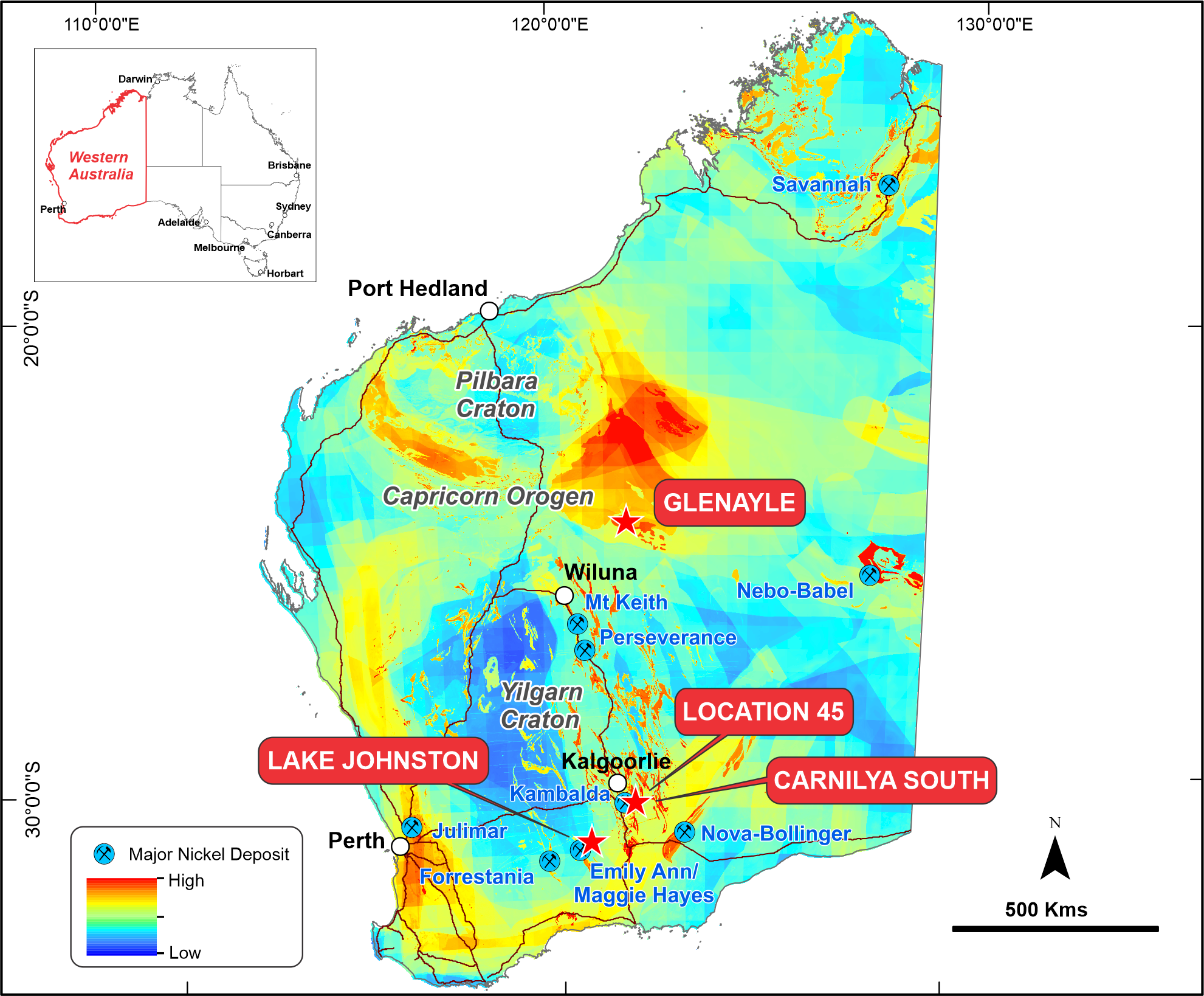 Mineralisation at Goodyear occurs in three defined resource domains (Contacts 1,3,4) positioned along the basal ultramafic komatiite contact within the underlying mafic footwall. This basal contact is shared with the high-grade Carnilya Hill mine, (Wyloo Metals), situated 6km to the east and along strike of Goodyear (with a historical production of 1.7Mt @ 3.3% for 57,400t Ni until 2012).
While Goodyear has never been mined, its preservation can be attributed to Location 45's fifteen-year history of ownership by major gold companies, which directed their focus toward the Mt Martin Gold Mine situated in the east of Location 45.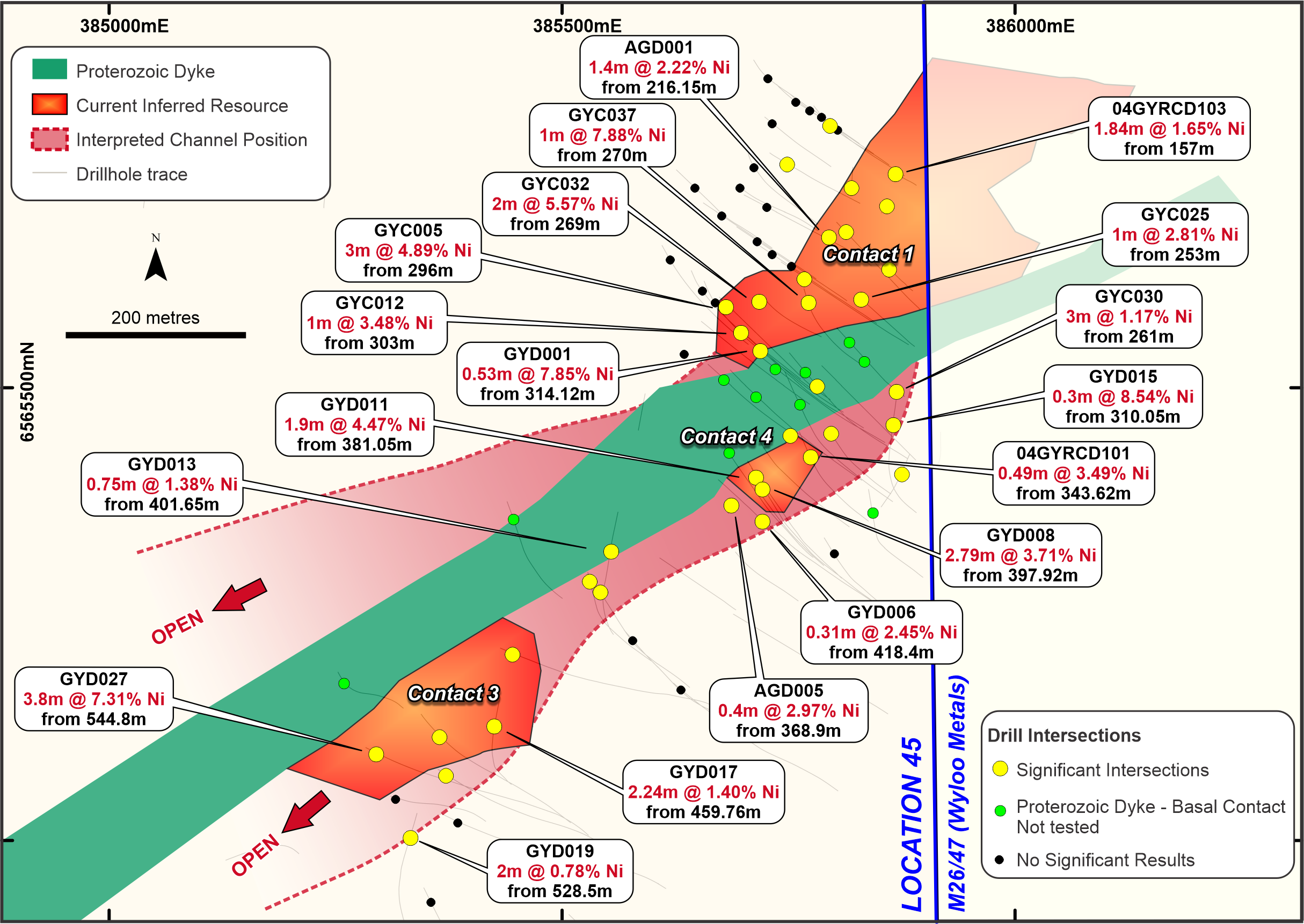 Plan view of Goodyear Nickel Deposit with an inferred resource of 392,000t @ 3.78% for 14,780t of nickel, showing historic drillholes and significant intercepts, and mineralisation open at depth and down-plunge
The Company's geological interpretation extends the prospective basal contact by 6km west of Carnilya Hill to the Dunlop nickel deposit (Wyloo Metals), which is the up-dip extension of Goodyear. Importantly, at least 30km of the highly prospective basal ultramafic contact has been subject to very limited nickel sulphide exploration for the last 15 years.
Nickel sulphide mineralisation at Goodyear remains open along strike and down-plunge, with the grade and thickness of mineralisation strengthening down-plunge. The deepest drillhole, GYD027 returned 3.8m @ 7.31% Ni in Contact 3 along the edge of the defined resource envelope. As similar nickel mineral systems in the broader Carnilya district have a gentle plunge (e.g., Carnilya Hill and Zone 29), Lefroy interprets significant upside potential to extend west beyond the Proterozoic dyke.
A summary of the Goodyear resource is presented in Table 1, with resource tonnes and grades re-reported by CSA Global in 2023 at a 1% cut-off grade, which aligns with the original resource reported by Australian Mines Ltd in 2008.