The Mt Martin Gold Mine (Mt Martin) lies within the western boundary of 76km2 freehold title, Location 45, in Lefroy's greater Lefroy Gold Project (LGP) approximately 30km south of Kalgoorlie and 20km north of Kambalda.
Mt Martin is surrounded by the infrastructure of multiple other operating gold and nickel mines in the Kalgoorlie-Kambalda district and has been a focus for gold exploration and production activity for more than a century with approximately 200,000 ounces of gold produced to date.
Lefroy acquired Mt Martin and Location 45 in May 2023 through a Mineral Rights Agreement between title holder Franco Nevada Pty Ltd and Lefroy's wholly owned subsidiaries. In this agreement LEX and its subsidiaries acquired all mineral rights from Franco for an initial 21-year term in exchange for a minimum annual exploration expenditure of $100,000 and 4% royalty upon production.
Since the acquisition, the Company has confirmed a remaining Indicated/Inferred resource of 501,175oz Au (8.7Mt @ 1.79 g/t Au), where gold mineralisation is associated with a series of stacked, west-dipping sulphide and quartz-carbonate lodes.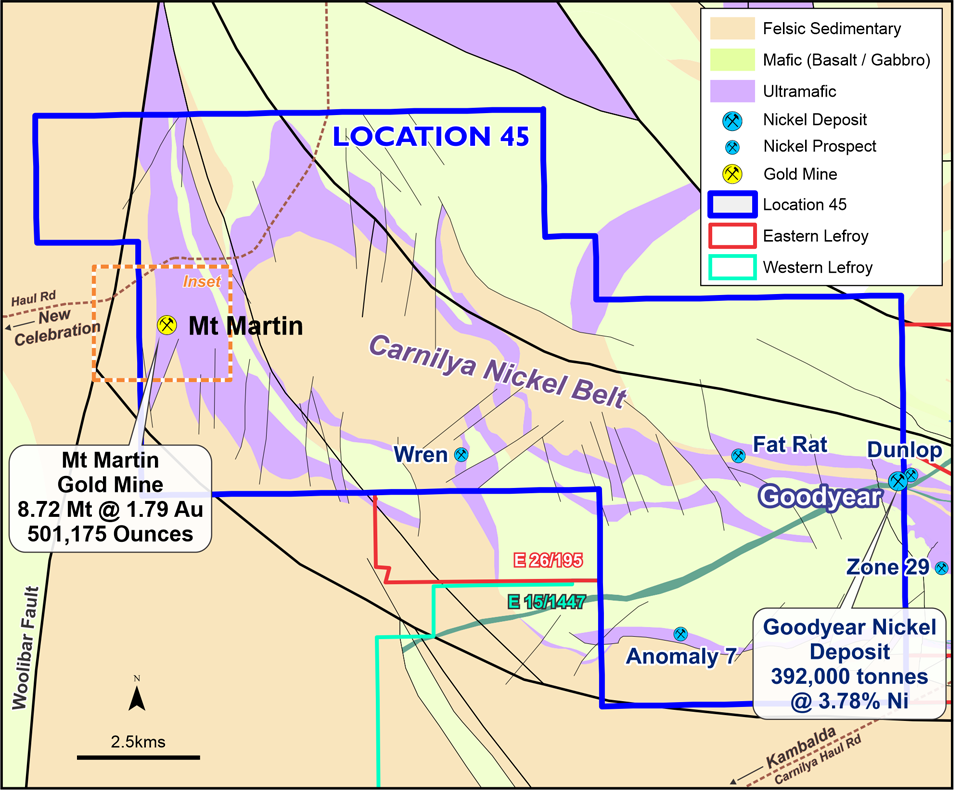 Interpreted bedrock geology map of Location 45 hosting Mt Martin Gold Mine and the Goodyear Nickel Deposit
Significant potential for resource growth exists at Mt Martin based on historical drilling below the existing open pit, which returned multiple high-grade gold intercepts that have not been followed up for a decade, including:
12m @ 6.6 g/t Au from 318.6m (AUZD003)
33.15m @ 3.82 Au from 0m (MUG 33), including

10.35m @ 5.12g/t Au from 0m, and

3.95m @ 6.48 g/t Au from 28.4m

52.9m @ 2.4 g/t Au from 78.2m (MUG 33(, including

7.66m @ 5.16g/t Au from 79.18m
5.49m @ 4.44 g/t Au from 129.88m (MM85)
Immediately outside the Mt Martin open pit, limited modern exploration has been completed, presenting significant near-surface opportunities for additional discoveries and further resource growth at Mt Martin. The shallow resources of the Adelaide pit and Swift deposit highlight the potential for additional mineralised structures proximal to the Mt Martin resource.
The Company has also identified that existing resource wireframes exclude any assays below 0.5 g/t Au, and that there is an opportunity for significant upside potential by re-optimising the estimate to account for mineralisation outside existing interpretations, aided by infill drilling.
The remainder of Location 45 is largely unexplored, presenting significant potential for additional Greenfields gold discoveries.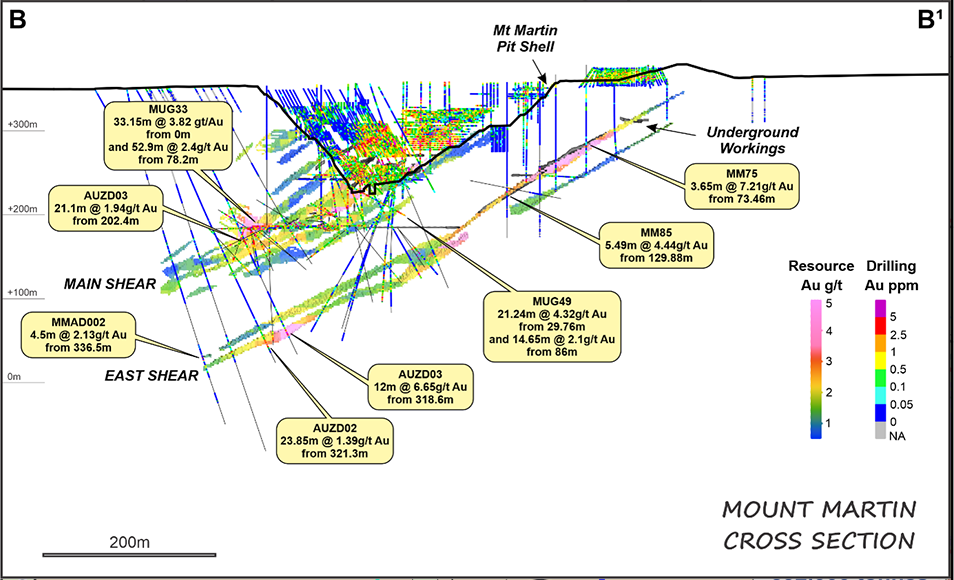 Mt Martin cross-section looking north, showing resource blocks, drilling and significant intersections